TRAINING IN THE PRACTICES of WISDOM
This 8-month program will create opportunity for participants to cultivate and deepen Wisdom
Practices in their own lives, observing and contemplating their impact. This Training will also provide opportunities for participants to offer these Wisdom Practices with others, both individually and in group settings, with a forum for feedback and debrief.
As a part of each Training Day, from 3-5:30pm, we will offer a Wisdom Way of Knowing gathering, open to anyone in the community who may have interest in this type of contemplative experience. Through shared leadership, in spring, the training participants will assist in leading Wisdom Practices.
Participants will also
Attend an orientation meeting for this training in the Practices of Wisdom, which will be held on Friday, August 16, from 6:00-8:00pm at Moravian Theological Seminary
Engage in the Practices of Wisdom personally (Centering Prayer, Sacred Gesture, Chanting, reading of Wisdom literature, etc.), writing one short reflection each semester integrating what you are learning/ noticing
Engage in personal Lectio Divina on the Gospel of Thomas, responding to the Lectio by electronically posting personal responses and responses to a peer's post each month on a closed Facebook page
Participate in a monthly (2 hour) Law of Three Midwife Group/Wisdom Circle (at a time determined by each group)
Engage in regular Maurice Nicoll (Wisdom/4th way author) readings, posting personal responses on a closed Facebook group page
Participate in Movement Days (9/30, 11/18, 3/24) with Wisdom Movement facilitator, Deborah Rose Longo, who is also Cynthia's movements instructor (cost for participating in 2 Movement Days included in registration)
Engage in mindful activities suggested each week/month in a process called 'conscious work'.
Suggestion
ONE TIME over the course of this training, participate in a local Moravian Theological Seminary 3-5 week-day Wisdom School (January and June are typical MTS Wisdom Schools), experiencing Wisdom Practices in a full Wisdom School setting (cost for Wisdom School is separate).
Prerequisites
Those interested in this training are to be steeped in Cynthia Bourgeault's wisdom teachings,have an established contemplative prayer practice (Centering Prayer or similar), and have received prior contemplative training. The training is open to invited participants or those who APPLY and interview with the instructor.
Our leader Marcella Kraybill-Grecco & invited wisdom guest facilitators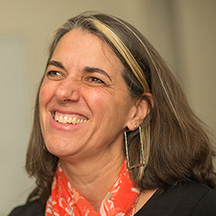 A teacher, spiritual director, and dynamic participant in the wisdom school community. She lives in Bethlehem, PA with her family, and spent her early years in Tanzania, Africa as a child of medical missionaries. Marcella is Co-director of the Spiritual Direction Graduate Certificate Program at Moravian Theological Seminary as well as the Clinical Director for Moravian's MA in Clinical Counseling. Marcella holds a Masters in Social Work along with a certificate in Spiritual Direction.
Cynthia has this to say about Marcella, "Marcella has worked with me extensively over the past five years (including leadership training) and is a dynamic and profound presence in our Wisdom network, already forging some amazing teaching pathways at Moravian." For additional background and reading about Marcella, check out: northeastwisdom.org/seedlings/marcella-kraybill-greggo/
In addition to the teachings offered by our Wisdom team, this Wisdom School will include select videos of Cynthia Bourgeault that were filmed at an Introductory Wisdom School. Through the power of technology and Moravian Seminary's large screen, participants will receive Cynthia's luminous teaching and transmission. To apply for our Wisdom School, click the "Apply Today" button above. To find out more about the Wisdom Way of Knowing's Wisdom School eCourse with Cynthia Bourgeault, visit WisdomWayofKnowing.org.