WISDOM SCHOOL:
WISDOM WAY OF KNOWING
A FIVE-DAY RETREAT
Join us for a Wisdom Way of Knowing five-day full-length Wisdom School, hosted on the beautiful campus of Moravian Seminary in Bethlehem, Pennsylvania.
A TYPICAL DAY MAY INCLUDE
7:30–8:00am Meditation/Chant
8:00–9:00am "Come and Go" Breakfast (Silent)
9:00–11:00am Morning Teaching
11:00–11:50pm Conscious Work
12:00–1:00pm Lunch
1:00–3:00pm Private Reflection (optional spiritual direction available)
3:00-4:15pm Sacred Movement
4:30-5:00pm Meditation/Chant
5:15-6:15pm Gospel of Thomas Group Lectio
6:15-7:15pm Supper
7:30–8:30pm "Debriefing the day"
8:30–9:00pm Gentle movement
9:00–Overnight Private reflection/Rest in the Great Silence
In addition to the teachings offered by our Wisdom team, this Wisdom School will include select videos of Cynthia Bourgeault that were filmed at an Introductory Wisdom School. Through the power of technology and Moravian Seminary's large screen, participants will receive Cynthia's luminous teaching and transmission. To apply for our Wisdom School, click the "Apply Today" button above. To find out more about the Wisdom Way of Knowing's Wisdom School eCourse with Cynthia Bourgeault, visit WisdomWayofKnowing.org.
OUR LEADER MARCELLA KRAYBILL-GREGGO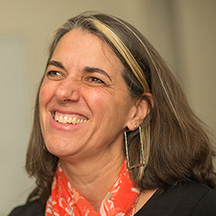 A teacher, spiritual director, and dynamic participant in the wisdom school community. She lives in Bethlehem, PA with her family, and spent her early years in Tanzania, Africa as a child of medical missionaries. Marcella is Co-director of the Spiritual Direction Graduate Certificate Program at Moravian Theological Seminary as well as the Clinical Director for Moravian's MA in Clinical Counseling. Marcella holds a Masters in Social Work along with a certificate in Spiritual Direction.
Cynthia has this to say about Marcella, "Marcella has worked with me extensively over the past five years (including leadership training) and is a dynamic and profound presence in our Wisdom network, already forging some amazing teaching pathways at Moravian." For additional background and reading about Marcella, check out: northeastwisdom.org/seedlings/marcella-kraybill-greggo.
Marcella welcomes seekers into the expansive teachings from the Wisdom Way of Knowing, by Cynthia Bourgeault. Come as you are, and allow your heart to awaken to this ancient tradition of Wisdom.
RETREAT DETAILS
Date: Sunday, July 23 – Friday, July 28, 2017
Cost: $675 (a limited number of $200 scholarships are available)
Time: Participants may check into your room starting at 3:00pm on Sunday afternoon, July 23.
Our first meal together will be Sunday dinner at 5:30pm. The retreat ends on Friday, July 28 at noon; you will be provided a "to-go-lunch" following our last morning session.
To apply: Click on the link above "Apply Today"
Questions: Email Kim Denyes, or call 610-252-3518.
About the accommodations. All meals will be shared in the dining room of the Haupert Union Building of Moravian College. The teaching space will be in the Bahnson Center of Moravian Theological Seminary. All attendees are staying in our bi-level air conditioned townhouses with two bedrooms and bathroom on the first level and three bedrooms, a bathroom, and small kitchen on the second level. Each attendee will have their own private bedroom with a locking door. The bathrooms are shared. These items are provided for you: a pillow, bedding, towels, blankets. Please bring all of your toiletries and hairdryer (if you use one). All indoor spaces are non-smoking. Also there is a coin-less laundry machines available. You will find free parking at each townhouse. The dining room is a 2 short block outdoor walk from the teaching space. The College and Seminary campus are located on the north side of Bethlehem. The grounds are beautifully kept and safe for walking and enjoying nature. There is parking by the dining room as well as next to the Seminary.