St John's UCC Allentown
Community Impact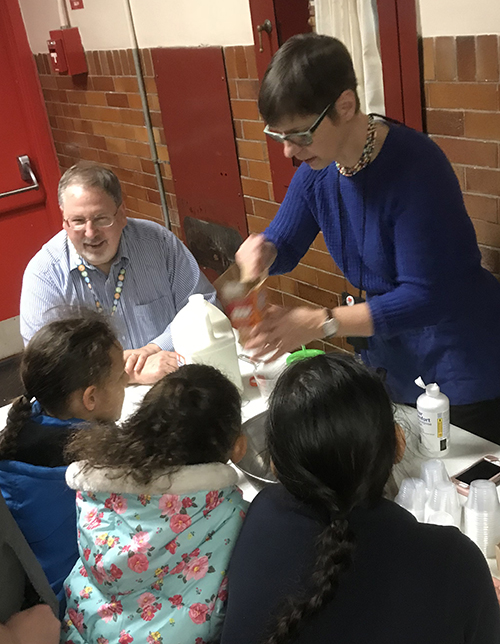 In the fall of 2014 a team of three church members, plus our pastor, took a lay leadership course in Contextual Outreach at Moravian Theological Seminary taught by Dr. Jill Peters. In that course, we, thoroughly, studied the make-up, trends and demographics of our St. John's neighborhood. We walked the streets to see where people hung out and to interview everyone we met. We sought out people in the small, family-owned restaurant a block away and at city hall; in the drug and alcohol rehab place right next door, at the library, at the hair salon and at the playground. We wanted to learn everything that we could about our community in order to identify and better understand the needs, to see what ministry or ministries God might be calling us to do. Several areas of need rose to the surface as a result of our study, but we felt most compelled to become involved in the lives of the children at Central Elementary School, and St John's became one of Central's Community Partners.
We have monthly donations for Central. Last month it was sneakers, in children's sizes, in white, black, or blue. We were able to give 21 new pair of sneakers to the children at Central. Cathy, the Community School Coordinator told of giving a new pair of sneakers to a little girl whose sneakers were so worn and torn that the sole flapped apart from the rest of the shoe with every step. That talkative little girl was, suddenly, at a loss for words when Cathy held out the new sneakers. Her eyes opened wide, her jaw dropped and she said, "Are those for me?" Cathy was overwhelmed with emotion, but managed to nod her head and say yes.
The previous month was "socks and undies" month. We've long since overcome our shyness about saying "undies" in church. It's a real thing and it's a need that isn't being met in some of these children's lives. Last month we collected 138 pair of socks and 107 pair of underwear. This month it's soap. We collect winter jackets in the fall and school uniforms in the summer. When we began these monthly donations, we initiated having the children in the congregation collecting the designated items during the regular offering time and putting them in the big Central box in the front of the sanctuary, the one that's decorated with drawings and notes from the students. At first, there was some concern about placing too much emphasis on our ministry with Central for fear of detracting from our other local missions. But, as is the case with giving; it never divides. It always multiplies. And multiply it did; again. St John's has a strong history of mission to the community and to the world. Becoming involved with Central has only created more awareness of and participation in all of our missions.
If you were to join us for worship on a Sunday morning, you'd find that the offering time is a very active, intergenerational celebration of giving. As soon as the adult ushers have their collection plates and turn to walk down the aisles, the children get up and walk up and down the aisles with their eyes peeled for anyone who is holding up a bag of items for one of the local missions. They collect those bags and take them to the appropriate containers.
About a handful of our members are regular volunteers at Central, going into the same classroom on a regular basis to read a book to the class and, often, assist the teacher with a follow-up activity. Some of our volunteers are math or reading tutors, working with students at any grade level, some even as young as kindergarten. These volunteers, plus about another handful, go in to facilitate family nights, such as Science Night or a Book Blast. At a Book Blast, such as the most recent anti-bullying one, students and their families listen to a story and talk about it, then follow that up with a craft project related to the book. It's a great time for key reading strategies to be reinforced with the parents. Then everyone has pizza and each student takes home a book.
Each one of our volunteers will tell you how much fun they have and how worthwhile they feel their time with the children at Central is. They will tell you stories about their interactions with the children. They will speak with passion about the needs of the children and you'll be able to sense the depths of their conviction to creating a better, safer, more equal world in which the children can grow into all that they're meant to be. Bonds are formed easily and treasured mightily. The children run up to greet you with shouts of your name, smiles and laughter all around and hugs that could hold for days. In their lives, we are an adult who cares about them. That gives them a building block that they might not otherwise have had. I think each one of the volunteers would say, however, that they felt like they got more out of their interaction with the children than what they gave. We give very little, yet we get so much more in return.
I have been working with the same teacher with whom I began in the spring of 2015. She was teaching a first grade class that year and the next and is teaching a second grade class this year. As God has a way of arranging things, we really hit it off and connected on so many levels. We collaborate, easily, on many projects for the students. We talk about anything and everything, but, mostly about the children and education in the urban setting over which they have no control whatsoever.
The Rev. Wendy L. Williams, Penn Northeast Conference
Retired clergywoman and a member of St John's UCC Allentown