Taking A Place At The Table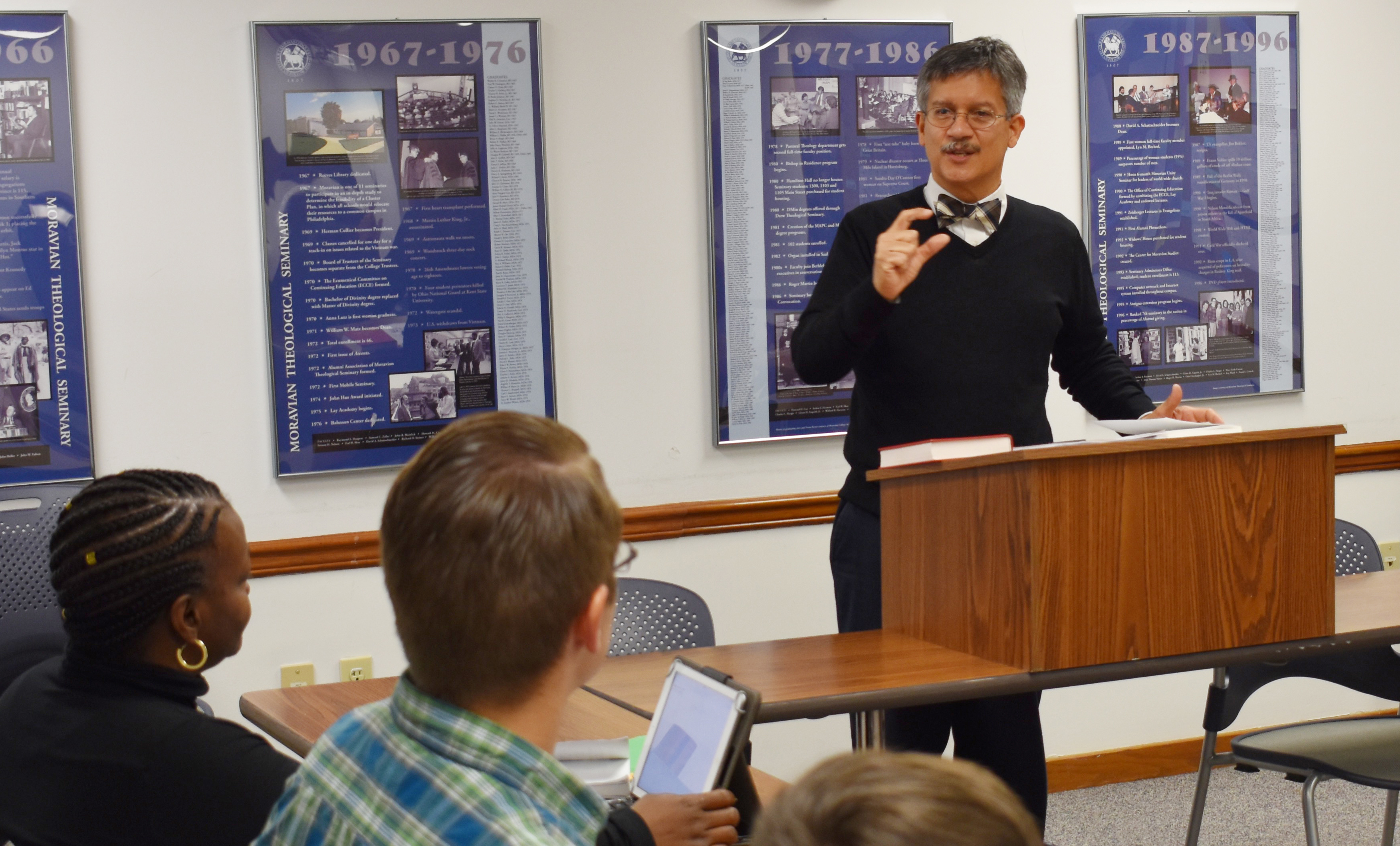 God calls us to places we are not thinking of and on journeys where we do not see the end. This is by definition the gist of the vocation of a Christian: to venture into new territory, mindful that only God knows the end of it and trusting that it may be revealed to us in due time.
Through the mutual discernment process that brought me to Moravian, I can say that I feel called to this place. Within a short period of time, I found Moravian Theological Seminary to be a good working environment and a welcoming place for my vocation as a teacher in the Christian Church. Teaching theology, which is an extension of my call to ministry, is a great passion of mine, and doing it here is an honor bestowed on me and a matter of trust, which I find humbling.
This Seminary is a gift of Moravians to the Christian Church and beyond. In my first semester, I have learned of this institution's strong commitment to the faith as well Rivera Cont.
as to the life of the mind. I am impressed by its egalitarian practices, where faculty and staff share a common vision and responsibilities, and its gracious community. When
I was first told of how important sharing meals was for students, staff, and faculty alike, I did not quite understand how significant such gatherings around the table and sharing food actually are for everyone involved. The table shapes our communal outlook; everybody has a place at the table.
No journey would be worth pursuing and no change would be meaningful without challenges along the way. As the reader may guess, the first semester has been a period of transition: new courses to teach, adapting to local customs and traditions, and interacting with new colleagues and students. There were previous projects to complete and a learning curve on day-to-day institutional operations. We got into the rhythm of weekly traveling between Bethlehem and Philadelphia where my wife, daughters, and grandson live. In the midst of this all, our extended family in Puerto Rico struggled with the impact and effects of Hurricane Maria in their lives. The expressed concern, prayers, and support of this Moravian community made a difference.
Chapel attendance has always been meaningful in my experience, from the time that I was a seminarian to the many years as a seminary professor. There are some differences at MTS. I was used to a weekly, full-fledged service and liturgical experience. At MTS I have quickly come to appreciate the emphasis on meditation and prayer, creative liturgies, and intimate communion practices. The richness of liturgical emphasis from the Moravian Book of Worship on unity, education, peace and justice, etc., is truly uplifting. The liturgical language is beautiful.
The reception given to me has been affirming. From the very beginning, starting with the job interviews, everybody has seemed content to be part of MTS. This seminary is truly ecumenical at heart, and I am thankful I have been presented with "a place at the table."